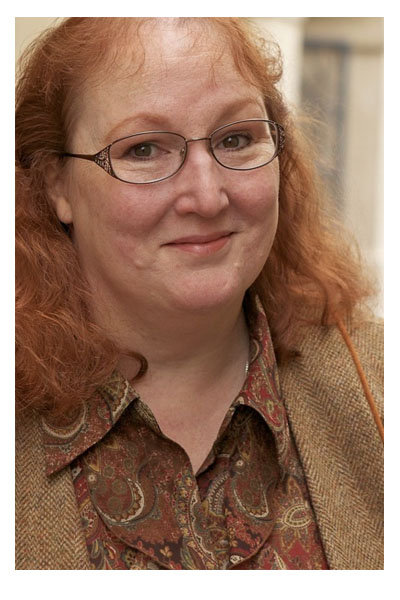 Ten Random Things About Me 
I hate being told I have to choose just one thing. So in addition to traditional mystery, I write picture books, middle-grade fiction, and contemporary fiction. On the horizon: historical fiction and magical realism.
I have a degree in Russian Literature from Reed College. I've read War and Peace in Russian, but I can't carry on a decent conversation in it anymore. I'm great at nodding and smiling, though.
Like my character Emily, I love classic literature, cats, knitting, and everything antique. Unlike her, I am also a card-carrying geek. (iWhatsit? Ooh—shiny!)
My yard is roughly the size of a phone booth, but it contains two huge redwood trees. And a Tardis.*
When I was younger and fitter, I led a semi-pro Renaissance dance troupe. I still have the authentic Elizabethan costume I made (until my cosplay-loving daughter steals it).
You can find me every Sunday and feast day (we have lots) singing soprano in the choir at St. Lawrence Orthodox Christian Church in Felton, California.
Despite the fact that we are not from Lake Wobegon, all my four children and two grandchildren are above average.
I am a natural-born redhead (with the skin cancers to prove it).
My maiden name, Bolger (with a soft "g"), comes from County Cork. To the best of my knowledge, I am not related to either Ray or Fredegar.
I spend one delightful, refreshing week each year on a writing retreat in Rockaway Beach, Oregon, the inspiration for the fictional town of Stony Beach, in which Crime with the Classics is set. Excuse me, I have to step into my Tardis* and head back there now.
*Only in my dreams, alas.