A couple of recent announcements of literary adaptations have given me cause to think about the merits and pitfalls of bringing beloved classic novels to film or TV.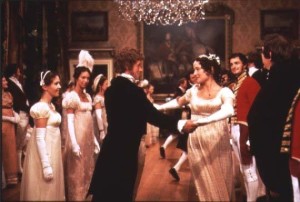 I by no means oppose the making of films and TV series based on my favorite books. The A&E Pride & Prejudice, the Emma Thompson Sense & Sensibility, the Kevin Sullivan version of Anne of Green Gables (with Megan Follows and Jonathan Crombie), the Merchant/Ivory adaptation of A Room with a View, and the BBC versions of various novels by Dickens and Trollope are among my favorite things to watch. They don't replace the books in any way; rather, they bring a new dimension to them. The performances of great actors can deepen our understanding of favorite characters. The visual medium immerses us in settings, costumes, and customs that are beyond our contemporary experience.
But all the versions I've mentioned above have one thing in common that not all such adaptations share: While they may add to or subtract from what an author originally wrote, they do so in a way that is faithful to the spirit of the book. They don't impose a modern vision on the stories any more than is unconscious and therefore unavoidable.
Unfortunately, such is not always the case. I recently read of a new version of Anne of Green Gables being developed for Canadian television, and the description of it gave me pause: "While the new series will follow a similar storyline to the book that millions of readers around the world know and love, it will also chart new territory. Anne and the rest of the characters in and around Green Gables will experience new adventures reflecting themes of identity, sexism, bullying, prejudice and trusting one's self."
In other words, Anne Shirley is going to become a thoroughly modern girl in everything except her clothes.
And let's not even talk about the utter desecration of Pride & Prejudice currently disgracing the big screen. Zombies? Please. Jane Austen would have some devastatingly witty remark to put that in its place in two seconds flat.
These two admittedly quite different uses of classic material bother me for more or less the same reason. You see, one of the most valuable things about classic novels is that they give us a window on a world that no longer exists—a world we have a lot to learn from. We can observe how people behaved in a past era and think, well, we don't want to be racist like Scout's neighbors, but wouldn't it be nice if we all took care of each other in community the way people did in Avonlea? We don't want to go back to a world that denies opportunity to women, but wouldn't it be great if more people nowadays had the pure mind of Jane Bennet or the invincible self-respect of Jane Eyre? And we might even stop to realize that all those good qualities were informed by the pervasive Christian faith of the characters' respective cultures.
If we impose modern values, expectations, and perspectives on these older works—especially if we try to bend them to address contemporary issues—we lose all that benefit. We might as well take any contemporary story, dress the characters in Victorian costumes, and call it a period piece. We may be entertained; we may get to feel good about ourselves because we've rooted for an underdog; but we will not be moved on the deepest level. Our presuppositions will not be challenged. Our hearts will not be changed.
So let's not try to make all the classics more "accessible" by interpreting them through a modern lens. Let's rather see them as they are, as they were meant to be seen—and allow them to interpret us.