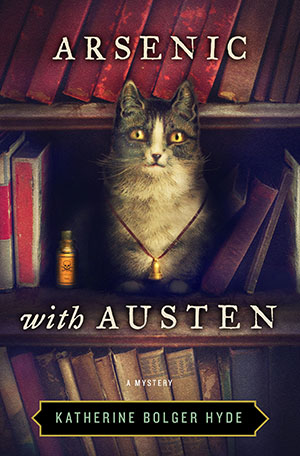 Author: Katherine Bolger Hyde
Format: Hardcover / Paperback
Publisher: Thomas Dunne/Minotaur Books
Publication Date: July 12, 2016
Description
When Emily Cavanaugh inherits a fortune from her great aunt, she expects her life to change. She doesn't expect to embark on a murder investigation, confront the man who broke her heart 35 years before, and nearly lose her own life.
Emily travels to the sleepy coastal village of Stony Beach, Oregon, to claim her inheritance, centered in a beautiful Victorian estate called Windy Corner. There she hears hints that her aunt may have been murdered, and soon another murder confirms these suspicions. While Sheriff Luke Richards, her once-and-possibly-future love, does the police work, Emily turns her literary mind to analyzing suspects as she would the characters of her favorite novelists. Beneath the placid surface of Stony Beach she discovers secrets that would put Jane Austen's most reprobate characters to shame.
Coming in July 2016 from Thomas Dunne/Minotaur Books!

Crime with the Classics
In this upcoming traditional mystery series, retired literature professor Emily Cavanaugh inherits a Victorian estate and finds herself embroiled in a series of murder cases, each of which bears an eerie resemblance to one of her favorite classic novels.

Reviews and Endorsements
"I couldn't put it down! An endearing heroine, a chilling plot, a delightful love story, all in a gorgeous old mansion! I'm recommending this to all my friends."
—Jeanne M. Dams, author of the Dorothy Martin Mysteries
"A cleverly-constructed village mystery, abounding with hidden treats for Jane Austen fans and mystery-lovers alike—a promising and delightful series debut!"
—John Clement, author of the Dixie Hemingway Mysteries
"Arsenic with Austen is an intelligent mystery, with surprising plot twists and a dash of good old-fashioned romance. A delightful debut."
—Hannah Dennison, author of the Honeychurch Hall Mysteries and the Vicky Hill Mysteries
"Arsenic with Austen—what's not to love in crime solved by a classic?"
—Cara Black, author of the Aimée LeDuc Mysteries
"Hyde makes her adult fiction debut with an intelligent traditional mystery that stars an endearing woman of a certain age who draws on her knowledge of literature to solve crimes."
—Library Journal