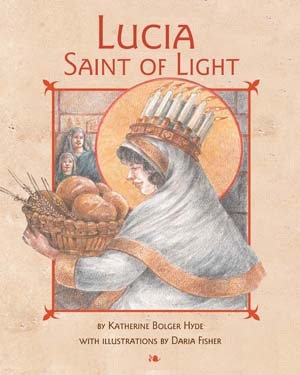 Author: Katherine Bolger Hyde
Illustrator: Daria Fisher
Dimensions: 8 x 10, 32 pages
Format: Hardcover
ISBN: 9780982277041
Publisher: Ancient Faith Publishing (formerly Conciliar Press)
Publication Date: October 1, 2009
Description
Long revered in both East and West, St. Lucia is an early virgin martyr whose life and legacy shine as a light of faith, hope, and compassion in the darkness of winter and sin.
Lucia, Saint of Light introduces young readers to both her life and her delightful festival as it is traditionally celebrated in Sweden and around the world. Daria Fisher's vivid and detailed illustrations bring the story to life for young and old.
The book includes all the resources you need to host your own St. Lucia celebration:
Original lyrics and traditional music for the St. Lucia Carol
Text of an Orthodox hymn to the saint
Recipe for Lussekatter ("cat" buns)
List of web and print resources for more information
Media
Reviews and Endorsements
"What a beautiful story about a saint I'd never heard of. If you're an Orthodox Christian, Swedish, or just love saints, you must buy this book. It's not only a lovely story about a woman who was martyred for Christ, but it's a parallel story about how we as modern-day Christians celebrate our namedays. The book starts out with a girl named Lucy who is celebrating her name day on St. Lucia day, and the book follows her along on her journey, with vivid illustrations that my son loved. (He kept pointing at the candles on her head; if you read the book you'll know what they're for).
"Lucia Saint of Light is a wonderful book for children to learn about traditions and Orthodox customs and how we celebrate namedays, while learning the story of someone who died for her faith. I wish I had a book like this growing up, and just bought 5 copies for friends' children on Christmas."
"I'm amazed at how much information is available in this picture book format without the text being overly long… It's actually a fairly quick read—Miss Hyde has found some magic ability, being able to weave the story of the third century martyr and the life that she led growing up in Sicily, along with the later legends of Lucia visiting Sweden during the time of terrible famine. A truly inspiring story for young girls (not necessarily toddlers, but ages five and up) and with a recipe for Lucia Cats at the back along with a hymn to the saint and a page of lyrics and the accompaniment as well. Very fun—and the detailed illustrations are worth studying, with lots of whimsy hidden in the pencil drawings…Don't wait for Lucia's feast day in December to pick up a copy…"
Interviews